Spiritual Practice
The aim of this website is to be an aid to spiritual reflection. We have given title 'Verba' to the main content of the website merely as a 'working title'; it has no specific reference beyond this site.
The early writings are more lengthy than those after 1996.
Please note that you will occasionally come across the word Maranatha in 'Verba'. This Aramaic word, see I Corinthians 16.22, is used as a mantra by some in Christian meditation groups. Its meaning may be given as 'Come, O Lord.'
The practice of reading scripture and quietly, patiently waiting for the words to reveal their depths and breadths of meaning, is a practice that once again is becoming more widely known.
Sometimes known as Lectio Divina, this may be practised alone or in community.
(For example see http://www.valyermo.com/ld-art.html ).
If you go to Inner Locution (hyperlink) on our site you will read there some valuable comments, by St John of The Cross, on the awakening of the Word in the heart through quiet, reflective study.
Our site offers the fruits of one individual's practice and the reader may wish to take, as a guideline only, the following frames of reference when considering this site:
* That Verba is the spiritual diary of someone who has a love for scripture and the Christian tradition.
* That Verba is the fruit of some aspect of the human psyche that is available to us all if we wish to access it, and which reasons in a wider, more universal manner than our common, daily conversations, both secretly in our own mind or with others.
* That Verba is a direct revelation through that aspect within all of us that connects us with a permanent, underlying presence which may be called the 'Christ Within'. This being a universal, spiritual presence that through its omnipresence is available to all. Hence we may prepare the way for revelation through mindful and heartful study, such as Lectio Divina, of the 'revealed word'.
* That Verba is the fruit of a direct experience, or communication of the 'Risen Christ' through a particular individual.
Although it is the tendency of the intellect to make one of such judgments as the above, we may also suspend any such judgment and approach these pages with an openness of heart, in a spirit of genuine enquiry, through which the way and the truth may be revealed for the service of all.
'If Our Lord should say to the soul "Be good," it would immediately be substantially good.'
We offer this website to be freely available to all those who seek assurance and unity in their lives and as an encouragement in their own spiritual practice.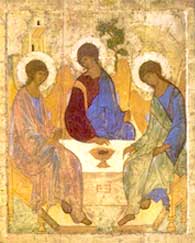 It is with the above in mind that the icon of the 'Hospitality of Abraham' was chosen to illustrate this website, an icon about which Archbishop Rowan Williams has written:
'…..the empty place at the table is for us; there is, so to speak, a fourth seat which completes the picture, and that is where we observers are.'
The Dwelling of the Light: Praying with the Icons of Christ Rowan Williams Page 58
'When……..the book (Bible) is closed, ……………..we cannot read the truth by our own resources, and must simply wait in his presence.' The Dwelling of the Light: Praying with the Icons of Christ Rowan Williams Page 77. This second quotation refers to the icon 'Pantocrator', an example of which may be found at: www.bridgebuilding.com/narr/lbchp.html
Once you have explored the buttons on this site you may want to use 'Verba' as an aid to your own study. Ideally, it is hoped that having read a particular day's writings then you may wish to follow up the Biblical references when they are given.
The amount of material here is very extensive and although it would be advisable to approach the writings systematically, there is no reason why a random choice of a day should not be valuable. We have all experienced those special times when a book falls open at a particular page that seems specifically written for us at that moment.
It may be appropriate to look at the Lent 'Verba' for each year, or to follow any one of the main periods in the Church calendar for a particular year. Alternatively, you may wish to make a study especially personal by looking at the writing for your birthday in each year.
Whatever method you choose, that which is recommended is a gentle, patient approach to the words in 'Verba' or in the selected scripture; such patient and reflective study is not common in our society. Consequently, the study of each of us becomes a natural service to our societies.
We would like to hear from you if you have any comments to make and your own advice for such a practice.